Organic Earl Grey white tea
Oganic white tea from Fujian from th fine picking of BAI MU DAN with its noble liquor. Its floral and velvety aroma blends perfectly with the fruity, zesty taste of bergamot.
Infusion time
4-5 minutes
Ingredients: white Bai Mu Dan tea* 90% (China), natural bergamot flavour* 9%, natural flavour*. *Ingredients from organic farming.
Claire B. published the 03/04/2020 following an order made on 24/03/2020
Le goût, l'odeur, la qualité y est toujours avec Terre d'Oc! Bravo
Beatrice B. published the 30/01/2020 following an order made on 19/01/2020
Excellent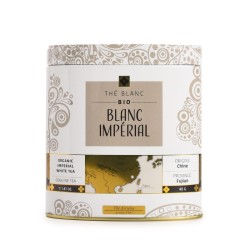 Organic Peach and apricot