Free delivery on purchases over €49 !
English breakfast black tea, the essential breakfast tea with an inviting robust flavour, as punchy as it is subtle. A blend of 3 iconic black teas: organic Keemun (Qimen) from China, organic black tea from Sri Lanka and organic Assam from India. A balanced, aromatic and malty organic tea ideal for breakfast.
100 g

Dosage
2 cc/250 ml

Infusion time
3-5 minutes

Temperature
90°C

Time of the day
Morning
INGREDIENTS: black teas* (India, China, Sri Lanka). *Ingredient from organic farming.

View the trust certificate

For further information on the nature of the review controls, as well as the possibility of contacting the author of the review please consult our Transparency Charter.
No inducements have been provided for these reviews
Reviews are published and kept for a period of five years
Reviews can not be modified: If a customer wishes to modify their review then they can do so by contacting Verified Reviews directly to remove the existing review and publish an amended one
The reasons for deletion of reviews are available here.
5 /5
Based on 7 customer reviews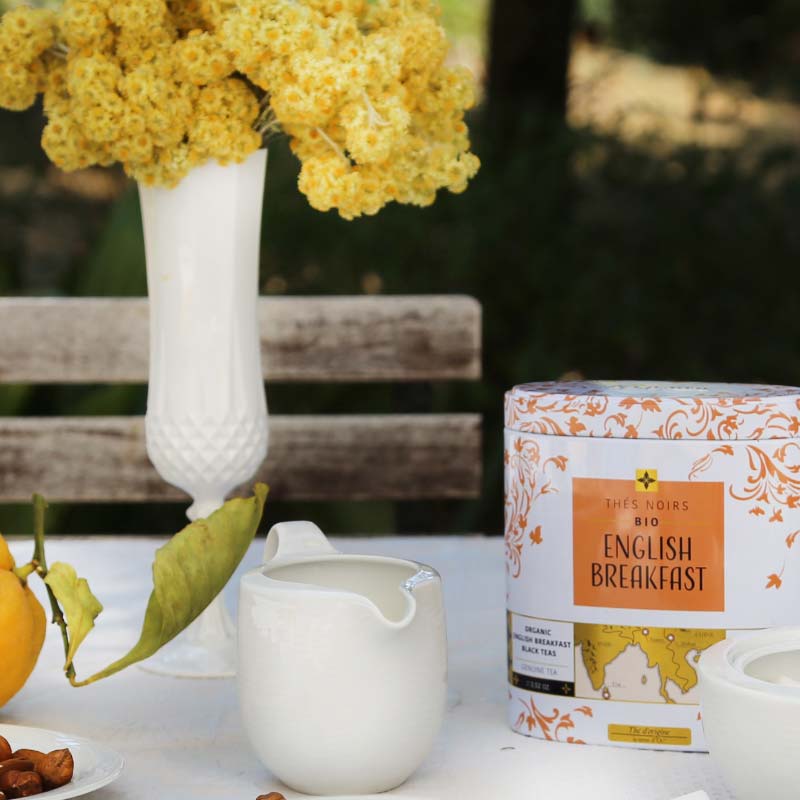 L'english breakfast était à l'origine un mélange (blend) de thés noirs corsés et puissants provenant des colonies de l'empire britannique composé de 3 thés. La reine Victoria l'a rendu célèbre en le buvant accompagné de lait, c'est aujourd'hui le thé noir le plus consommé dans le monde; il fait partie du traditionnel petit-déjeuner anglais !
Le Keemun (Qimen) appelé aussi le thé de la montagne du lion est cultivé dans l'Anhui entre les Montagnes Jaunes et le fleuve Yang-Tsé, il est apprécié pour sa saveur aromatique et corsé.
Le thé noir de Ceylan provient des théiers perchés sur les hauts plateaux du Sri Lanka, dans la région des « high grown ». Les feuilles ont été brisées pour donner une saveur intense et ronde.
L'Assam est cultivé dans le Nord Est de l'inde le long des deux rives du Brahmapoutre à basse altitude, ses petites feuilles noires et dorées offrent un thé au gout charpenté, malté et boisé.
L'assemblage de ces trois thés donne une liqueur à la tasse brune, idéal pour le petit déjeuner, équilibré, aromatique et malté. L'english breakfast remplace facilement le café, car il est corsé et tonique, il stimule sans énerver car la théine est libérée progressivement dans l'organisme.